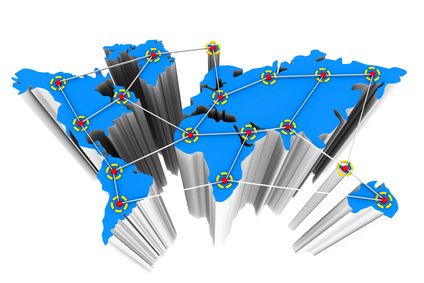 The content of many fields in the document, the logic of many fields and texts in forms, and also follow-on actions depend on whether the transaction is internal or has been exported abroad in SAP sales documents (order-delivery – billing document).
The following case distinction must often be made:
– No export
– Export from EU to EU country
– Export from EU to a third country
– Export from third countries in the EU
– Export of third countries to a third country
So that these cases do not have to be recalculated every time in terms and formulas or in every form and program, it is advisable to create a "Tax Indicator Export" in a userexit in the customer order and to append this as a ZZ field to the table VBAK . This "control indicator export" can then be transferred as a ZZ field into the delivery (table LIKP) and the billing document (table VBRK) via a data transfer routine in the copy control.
By means of such a "tax indicator export", conditions, messages and processes for Intercompany can then be conveniently controlled by Customizing.
The coding of a function module for the determination of a "Tax indicator export" is presented below.
Create a domain ZZTAXEL_DOM
Creating a Data Element ZZTAXEL_E
Extend the VBAK table by the ZZTAXEL field
– Append on table VBAK
Creating a Function Module Z_SD_DETERMINE_TAXEL
1

2

3

4

5

6

7

8

9

10

11

12

13

14

15

16

17

18

19

20

21

22

23

24

25

26

27

28

29

30

31

32

33

34

35

36

37

38

39

40

41

42

43

44

45

46

47

48

49

50

51

FUNCTION

Z

_

SD

_

DETERMINE

_

TAXEL

.

*"———————————————————————-

*" VALUE(IV_ALAND) TYPE ALAND OPTIONAL

*" VALUE(IV_LLAND) TYPE LLAND OPTIONAL

*" VALUE(EV_TAXEL) TYPE ZZTAXEL_D

*"———————————————————————-

Deklarationen

——————————————————

*

DATA

:

lv

_

xegld

_

aland

TYPE

xegld

,

lv

_

xegld

_

lland

TYPE

xegld

.

Fall

1

)

Kein

Export

————————————————

*

Ermittlung

der

EU

-

Kennzeichen

für

die

Länder

———————–

*

SELECT

SINGLE

xegld

INTO

lv

_

xegld

_

aland

SELECT

SINGLE

xegld

INTO

lv

_

xegld

_

lland

Fall

2

)

Export

in

EU

———————————————–

*

IF

lv

_

xegld

_

aland

NE

space

AND

lv

_

xegld

_

lland

NE

space

.

Fall

3

)

Export

EU

–

Drittland

————————————–

*

IF

lv

_

xegld

_

aland

NE

space

AND

lv

_

xegld

_

lland

=

space

.

Fall

4

)

Export

aus

einem

Drittland

in

EU

—————————

*

IF

lv

_

xegld

_

aland

=

space

AND

lv

_

xegld

_

lland

NE

space

.

Fall

5

)

Export

aus

einem

Drittland

in

Drittland

——————–

*
Installing the function module in the userexit SAVE_DOCUMENT_PREPARE in the program MV45AFZZ
IF

t180

-

trtyp

=

'H'

.

"Anlegen

IF

z

_

ca

_

cl

_

ue

_

control

=

>

aktiv

(

'SD

_

FILL

_

LIKP

_

ZZTAXEL'

)

=

'X'

.

CALL FUNCTION

'Z

_

SD

_

DETERMINE

_

TAXEL'
Display the field VBAK-ZZTAXEL in the customer order in the additional data B
– Dynpro
Completion of data transfer routines for delivery and billing
Extend the tables LIKP and VBRK by the ZZTAXEL field
Completing the data transfer routines header delivery and header billing to fill the field LIKP-ZZTAXEL or VBRK-ZZTAXEL
Further information
Spezial topics to SAP forms
Fixed price SAP forms
SAP form development
http://solidforms.de/solid_wp_2014/wp-content/uploads/2014/07/Global-Template.jpg
283
424
Torsten Thon
http://solidforms.de/solid_wp_2014/wp-content/uploads/2014/08/Logo1.png
Torsten Thon
2017-02-05 12:52:39
2018-06-03 21:51:03
Creating a Tax Indicator Export to SAP Sales Documents